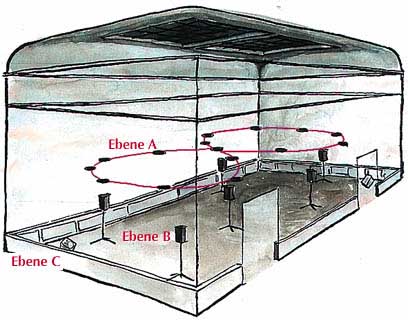 Three levels of movement (A to C on sketch above) are the main components of the sound installation; they determine the specific sound shape of the room.
Level A consists of a matrix of 15 loudspeakers arranged in the form of an eight, suspended three meters above the floor. Its specific dimensions are determined by the size of the floor. Along this line of loudspeakers, sounds flow in an endless loop.
Level B is made up of 6 loudspeakers on stands distributed throughout the room. They are not arranged in any particular order and radiate sounds in different directions. They may be regarded as single objects to be encountered as one makes his way across the room. These separate sound sources provide a number of fragments of sounds and texts. As the sounding body goes through different phases, the relation between simultaneous, a-parallel sound events and unisono parts is constantly changing.The basic volumes have been arranged in such a way that as the visitor approaches a particular sound source, text fragments become understandable and sound materials can be localized. While the visitor crosses the room he experiences continuous change between clearly perceptible and diffuse atmospheres. In some parts, as texts simultaneously resound from different loudspeakers, he may feel like he is eavesdropping; it is up to him to decide what sound source to listen to and for how long.
The third component, level C, is used to provide the grounding tones, so-called aura-sounds, of the room. It constitutes a "canvas" for the sound layers resounding from the loudspeaker configurations described above.
In the installation in the Badischer Kunstverein, an eight-meter-long sound tunnel was built in front of the room's entrance. The visitor had to cross this tunnel before entering the room.