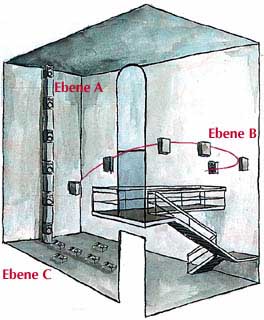 The sound installation of the room "lost" is characterized above all by the angle formed by the loudspeakers (level A). This column, which is prolonged on the floor, represents the most important component of the installation in the inner court. Along this path, masses of sound crash down and, in certain phases, reascend the column.
In the room, the visitor is sometimes surrounded by a sound band moving along a semicycle formed by loudspeakers (level B) counterpointing the downcrashing sounds.
Just as in the room "sound warp", a separate stereo set is installed which transmits the sound tableau for the threedimensionally moved sounds of levels A and B.