How can sound be exhibited? The question itself already contains the contradiction between different forms of art. An exhibition is experienced by a visitor as a spatial sequence - this is the convention of art exhibition. Sounds, on the other hand, are experienced by static listeners as a temporal sequence - this is the convention of the musical performance. To the visitor of an art show, a subjective experience set in time is developing through his movement in space; a listener to a concert develops an objective structure of time. Any attempt to avoid these conventions has to deal with the persistence of these established ways of experiencing culture.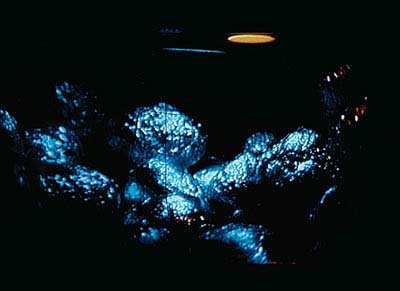 The project "TopoPhonicZones" of Sabine Schäfer starts at exactly this point and shows in four consecutive rooms four modes of combining acoustical, optical and physical forms of perception. It all starts with a sound tunnel - a linear route the visitor covers in space, bringing about a passage of sounds through subjective movement.
In the next, large room, things become more complex: the "sound warp" circles above the visitor - other individual sounds can only be perceived in passing by, requiring a closer approach to the loudspeaker, as if sound were an object you want to get a closer look at. The listener finds himself eavesdropping time and time again, swaying in attention between the total and the detail. The "Fruits of Columbus" of Hens Breet play with the same spatial ambivalence - from afar, in projection, there is a magical shining - from close by nothing but potatoes.
In the next room, the composition "Lines Between" requires a more prolonged attendance of the visitor, as the piece is, all in all, more than twenty minutes long. The visitor is even offered a chair so that he may follow up the sounds moving around him. In the same way as the composition in this room approaches conventional, linear forms of music, the wall reliefs of Werner Cee stay within the frame of classical visual art, resulting in a contrast of static imagery and mobile sound. Totally different things happen in the last room: "Lost" melts intense optical and acoustical impulses into a short but violent impression. The visitor will neither sit down nor move about - he is standing upon a stage towering up in the room - "thunderstruck" - as if he were looking down from a balcony upon the spectacle of nature.
Every single room of the four "TopoPhonicZones" is a model for a possible form of interdisciplinary art. Every room has a its very own atmosphere and places the visitor in a very special position towards the artwork. Many metaphores come into mind: the four seasons, the four elements, the four winds of heaven. However, none of them are accurate - although still all four modes of experience are abstractions of natural processes, playing with the transitions from hot to cold, solid to liquid, far away to close by, but without ever becoming nothing but simple allegories.
The installation "TopoPhonicZones" in the Badischer Kunstverein Karlsruhe relates exactly to the existing architecture - every room displays a subtle modification of its own architectural structure. This not only is the strong point of the project - it also shows the effort interdisciplinary work requires: years of preparation are needed to organize an event which lasts only five days. A project of this kind cannot be transported from one museum to another, or from one concert hall to the next - it has a quality that has become very rare in the business of culture: it is an event conceived expressly for a specific place at a specific time. Wie stellt man einen Klang aus ? Die Frage enthält bereits den Widerspruch zwischen verschiedenen Kunstformen. Eine Ausstellung wird als räumliche Folge von einem Besucher erlebt - dies ist die Konvention der Kunstausstellung. Ein Klang wird als zeitliche Abfolge von statischen Zuhörern erlebt - dies ist die Konvention der Musikaufführung. Für den Besucher einer Ausstellung entwicklet sich ein subjektives, von ihm selbst steuerbares Zeiterleben in der Bewegung durch den Raum - für den Zuhörer eines Konzerts entwickelt sich eine objektive Struktur von Zeit. Jeder Versuch, diesen Konventionen zu entkommen, muss sich mit der Hartnäckigkeit dieser festgeschrieben Erlebnisweisen von Kultur auseinandersetzen.