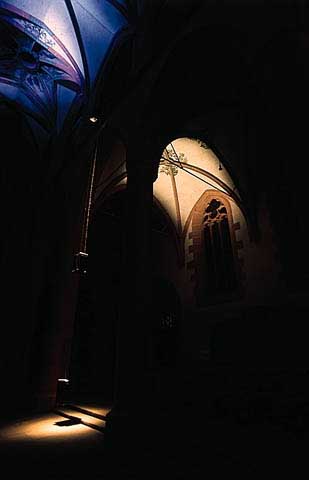 The set-up of the sound installation "The Spiritual Location of Sound" has been inspired by the architecture of the Heiliggeistkirche. As a consequence of of historic events, there are two separate rooms in this church. At the beginning of the 18th century, the church was used by the two confessions simultaneously - that is, the choir was assigned to the Catholics, the nave to the Lutherans.
When I visited the church for the first time, I was immediately struck by these two very different church rooms. It was on account of this diverging architecture of choir and nave that I decided to develop a sound installation which exclusively dealt with the dimensions of the nave. Thus I conceived four "sound columns" consisting of three loudspeakers each, which would be suspended from the ceiling. These columns were to mark the central aisle of the nave.
The music constitutes "room music" in the literal sense, as the movement of sound is employed as a substantial musical parameter. The sound movements traverse the nave in its specific dimensions.
There is an acoustical "staging" of the room, that is, the musical material has been selected on the basis of criteria for an adequate acoustic representation of the room. Of course it is also the church in its function as a place for ritual and imagination that has inspired the specific sound gestures.
"The Spiritual Location of Sound" represents a sound environment with atmospheric music. The listener is free to influence the parameters "space" and "time". It is up to him to determine how long and from which point he will listen to the music, as he can move freely in the room and thus assume different listening perspectives.