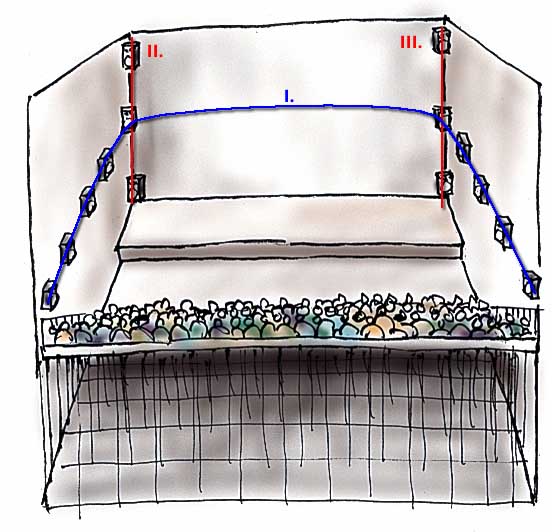 Topophonic Scenes is a composition I conceived for the inner court no. 10 of the IWKA building. The loudspeakers are suspended around the audience to form a horseshoe configuration (see above). Two chains of three loudspeakers each are suspended to the upper ends of the horseshoe at the left and at the right of the stage (see above). They broaden the installation's vertical emanation of sound in the room.
Even my very first ideas and plans for this composition were influenced by the sheer size of the performance site, evoking concepts of large-scale sound movement and gestures. Considering that the performance took place in former factory premises, the use of machine noises as well as of physically perceptible pulses were quite obvious.
Individual scenes are linked together. Initializing sounds mark the opening of varying sound spaces or sound gestures. Human and environmental noises, pulses, abstract coloured surfaces join to build different configurations, with varying weight attributed to the individual elements in the course of the composition. They create surrealistic scenes, a kind of "warp" cinema where the movie consists of a number of one-minute-long sequences, which oscillate between "auditive photorealism" or musique concrète and abstract sound fields. The movement of sound in space is physically perceptible. The audience is attending a "theater of sounds" with individual sounds - each at its own pace - acting the chief parts.