I
Music from a loudspeaker is a kind of music full of paradox: It is the music of invisible sounds. Invisibility creates peculiar conditions even when we listen to singers or instrumentalists that we could just as well experience at a live performance. When you listen to music on the radio or from a sound recording, the experience is fundamentally different from the one of attending a concert; there, you will normally not only perceive the music, but the performers themselves as well. Even during the live-transmission of a concert on the radio, you are not "there" in the same immediate way as the listener is present in the concert hall.
Many radio shows take this into account: often the music broadcasted is different from what can be heard at a concert - in a more independent form of programming and presentation. However, one could say that the music we hear through loudspeakers was never intended to be heard that way - this is especially true for so-called "serious music", such as the traditionally known "Lied" (song), chamber music, symphonies and operas.
One of the most important innovations in twentieth century music is loudspeaker music: music that can be heard exclusively through loudspeakers and cannot be performed with traditional instruments. During the second half of this century, this kind of music changed the experience of hearing in an equally radical way as the invention and development of moving images changed the experience of seeing during the first half of the century. Particularly radical changes resulted from the fact that composers no longer had to write down ("notate") their music in order to enable other musicians to perform it. In loudspeaker music, the composer himself is responsible for the resounding result, so the traditional function of notation is suspended. The traditional repertoire of sound resources in this kind of music has radically changed as well: the composer is no longer limited to the use of known instruments or playing techniques (including belcanto-singing), rather, he has access to all sounds of the audible world, that - in concrete music - may be conserved with technological means, assembled ("montage") and modified, or - in electronic music - may be produced synthetically. In many cases, both methods lead to completely new tonal results - storage and processing of sounds ("concrete music") or construction of totally new sounds ("electronic music"). In the meantime, the technological possibilities have developed in such a way that a person who listens to electro-acoustic music can hardly distinguish whether specific structures were created by the processing of existing sounds, or whether they were originally produced in a studio. In these cases, it is of even greater importance that the listener be offered new means for orientation that make up in the most comprehensive way for the loss of what was known and familiar to him .
II
Listening to the electro-acoustic music by the composer Sabine Schäfer, born in 1957, one finds that she combines many of the different possibilities that have played an important role since the 1950s. This is evident once you consider the sound material she uses:
"Essentially there are three kinds of tonal colors I use in compositions. They are: on the one hand, tones which are generated purely electronically - tones I have processed using a specific form of sound synthesis; tones that have been isolated from our environment - organic tones one might say, for example machine noise or vocal material, and these tones I transform in different ways; finally, material I refer to as mixed tones - tones created by mixing pure electronic tones with sampled ones." 1)
When Sabine Schäfer describes the sound material of her electro-acoustic music it is evident hat the origin of these sounds is not the only thing that matters: environmental sounds and synthetic sounds produced in a studio should not remain unconnected, but between them diverse intermediate forms can be realized as "mixed tones". In this way, new sound material is created out of the transformation of what seems familiar.
Obviously, concrete sounds play an important role in her music - sounds taken from the environment (such as machine noise and vocal sounds), as well as music which does already exist. Apart from familiar sounds, one also discovers technically alienated sounds - even totally new, synthetically produced material: electronic sounds that are different from familiar environmental sounds in such a way that within them all clear restrictions established by everyday and traditionally formed hearing experience are suspended. These sounds often differ from traditional tonal orderings - be it in the smallest steps of tonal distance (the "micro-intervals"), be it in spacious and continuous changes of the sound material, in swelling, vibrating, ascending and descending sounds moving diversely through the room in continuously changing timbre.
Especially by using small-scale micro-intervals and subtle spatial movements, Sabine Schäfer has disclosed entirely new sound effects in her electro-acoustic music - sound phenomena that seem to have surpassed all known contours and restrictions, flowing into a free stream of sounds and tonal processes.
Many new possibilities in electronic music result from technology being now able to overcome boundaries between individual sounds and to create spacious tonal surfaces: sounds as symbols for the unknown, of what is endlessly developing. Such sounds play a major role in Sabine Schäfer's music as well. They often become very graphic and powerful especially when they are confronted with totally different sounds; to short, precisely cut noises as known from everyday hearing experience. Such laconic-drastic noises turn up as drastic presentations of "realistic" sound impressions: maintained almost in their raw state, displaying an almost aggressive power of expression.
Sabine Schäfer thinks that the diversity, power and freshness of the electro-acoustic tonal universe result from the fact that she can use a practically unlimited range of material: she is not restrained to the possiblities offered by the synthetical generation of sounds, but rather is able to consciously incorporate man's real acoustic experience in the age of machines and mass media: "I think this is typical for our time: sounds are aggressive, they are physically perceptible. . In my composition TopoPhonicScenes this effect is produced by the employment of noises from a mechanical process in the environment that are capable of conveying the power of sound. I think it would very difficult to produce a similar intensity using abstract sound synthesis."1) Sabine Schäfer's music is constantly oscillating between the extremes of reality and abstraction, between what is clearly outlined and what is flowing freely, between the manically repetitive, mechanical sound and the unblocked stream of sounds, between continuously sliding and flashy, changing spatial movements. This music goes beyond all limitations - which means not only the boundaries of traditional sound structures, but also the limited possibilities of traditional performance practise: music as a loudspeaker sound-installation is developing into a sound-sculpture, open to new syntheses of sound, space and light. These different components are combined to form new configurations and processes in which the observer gets directly involved and which take him along on discoveries into the inknown.
III
In 1993, at the age of 36, the composer Sabine Schäfer from Karlsruhe wrote her "TopoPhonicScenes" for an ensemble of 16 loudspeakers.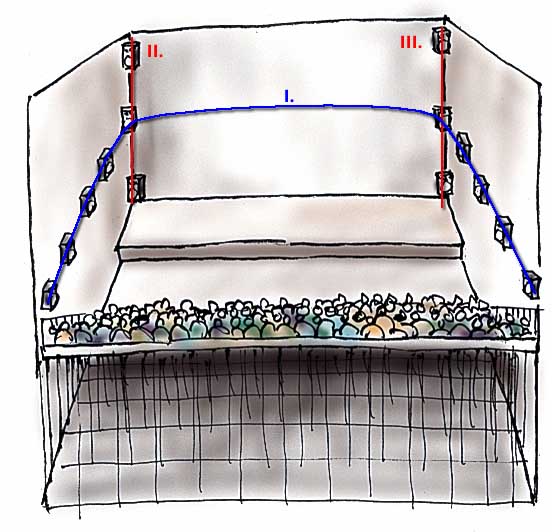 The "TopoPhonicScenes" are part of a cycle of pieces in which three-dimensional movement of sounds between individual loudspeakers play an essential role. The diverse possibilities offered by the spatial distribution and variation appear in different forms in this cycle- now with discontinuous tonal contrasts that "jump" about the room, now with coherent tonal evolutions.
Hammering noises, as produced by machines in metal processing plants on the one hand, and on the other hand spontaneously produced human vocal sounds beyond what we know as coded language: Using these (only at first sight extremely opposite) sounds and expressions, Sabine Schäfer establishes a conscious confrontation that renders the similarity of the concise sound effects even more obvious: The mechanic metal noises in combination with the voices have a stronger and more direct effect than noises produced by humans on percussion instruments: "What I missed in percussion instruments was ruggedness; it was only in these machine noises that I rediscovered this quality." 1) Quite obviously, these noises are not only used in their raw state, but in many forms which result from technical processing, transformation and alienation. "I find it highly interesting that the timbre of natural sounds or machine noises can be bent, transformed, and changed in so many ways. The nature of the transformation is very important; it is used either to emphasise the characteristics or else to alienate the material in such a way that its origins may never be retreived." 1)
In the confrontation of machine noise with human voices, it is very evident to what degree these (seemingly very disparate) tonal families shape our hearing experience - which includes the echoes of popular tunes of the modern machine age such as they turn up in Sabine Schäfer's composition "TopoPhonicSpheres".
In the first part of this piece, tonal events which rapidly jump back and forth play the main role; this is evident in the very first sound of the composition - a tight, explosive vocal sound.
The voice at the opening of the piece provokes answers coming from other voices. But they are caught in isolation. They do not build into speech; all one perceives is a first approach to music - a wordless singing, an internal warbling. After a short while, this scrap of music breaks off; inmediately afterwards, a clearly contrasting, squeaking vocal sets a clear cut. The first vocal sounds of the piece are apodictically short. Only later, the listener perceives more extended sounds - they are first attempts to call for a listener and a reply. But again, this development is rapidly brought to an end: a familiar sound from everyday life concludes this part.
The sound of a match in Sabine Schäfer's piece is the first sound not produced by human voices. It sets a signal for other, now instrumental sounds - for a rudimentary percussion rhythm.
This hectic though regular and monotonous rhythm is connected to vocal sounds that are equally hectic, but come flashing in at more irregular invervals; they remind the listener of previously heard vocals, further developing the sounds that went before. Then, the development is cut off once more. Again, it is a contrasting sound that indicates the conclusion: now it is a slightly longer sound, reminding the listener of tones produced by a wind instrument: a first hint at persistence, at sounds lasting in time - an instrumental reply to transformations that have been started in the vocal part. At the end of this part, the development towards more prolonged sounds is initiated.
Listening closely, one finds that the constantly repeated, penetrating rhythm leaves its traces even in the spontaneously produced vocal sounds: there as well, several repetitions occur. Only when the monotonous noise is gone, the vocal sounds regain their strength and immediacy.
In the following section, the power of repetition is emphasized even more: before, only occasional voices were repeated. Now, more voices are repeated in groups, again overlapped by a rather monotonous noise.Again, this development ends with a distinctly contrasting sound: the tight sound of wood in a high pitch.
Taking a look at the larger context, one will notice that the beginning of this part is similar to the beginning of the piece itself: that is, it consists of a vocal signal. At the beginning of the piece, the signal was heard in just one pitch.
A little later, something new begins: again, there is a short noise-like sound, but now it is differently shaped - it is a sliding tone. This sliding tone marks the forthcoming evolution: notably, this tone lasts longer, taking more time for its sliding transformation. It is the introduction to an even longer sound following inmediately afterwards - a prolonged bass sound.
The long bass is beaten rhythmically; it is superposed by short sounds reminding the listener of the voices he has heard before: first a short pulse, then, several long glissandi. After that, another clearly contrasting sound starts, apparently constituting the next concluding point.
The long, instrumental concluding tone reminds the listener of a similar ending signal in the previous section. When you compare both ending signals, you will find that the first one is markedly shorter than the second one - indicating that there has been a further advance in the development of the piece.
This long tone is the first signal placed in a way which is different from the preceding tones: up to now, this tone has always been followed by something new. But this time, things are different: the long tone is repeated several times while the sound structure is condensed step by step, thus lending more strength to the sound. The music seems to hesitate - but then, only a little later, it tears off again. The ending signal of this section comes as a reply to its starting signal: in slightly varying repetitions, in the course of which, this time, the sound gradually weakens.
Listening to the first part of the piece in the larger context, it is evident that, step by step, it prepares the sound structure of the second part: the extremely short cuts found in the first part slowly gain coherence; at last, in the second part, they melt into one tonal surface.
The conclusion of the first part is articulated by a fade-out . The end of the second part has a similar shape: however, this time there are more gentle, coherent sounds, and therefore the process of fading in and out goes on much slower. This is how the music finally comes to rest.
"TopoPhonicScenes" is a composition that reveals its formal conception in its very first tones. The contrasting structures of the piece can be considered symbols for a tension that shapes today's musical and non-musical life - there are fierce impulses on the one hand and on the other hand, a constant non-stop stream of sounds. This loudspeaker music may be understood as an attempt to work with the tensions that are present -in music as well as anywhere - instead of disguising them with superficial harmonies; and thus, hopefully, come to terms with them.
1) Interview with Sabine Schäfer by Rudolf Frisius, in Karlsruhe, December 10, 1993